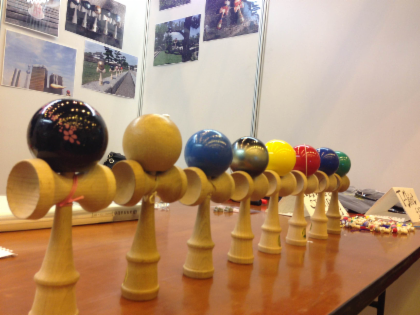 Kendama is a traditional Japanese game played by using a kendama which is made up of the "Ken" (handle) and "Tama" (ball) that's connected by a string. Although a Kendama might look like a simple toy, there are literally hundreds of tricks for you to learn! In this lesson, you will learn many tricks ranging from the basic to more difficult. Let's enjoy playing Kendama together and see how many tricks you can master! If you have any questions, feel free to contact me. I look forward to hearing from you!
No Cancellation
Show Printed Voucher
Operating Hours


* Description * * Cancellation Policy * Free Cancellation, up to 2 Days Prior Full refund 2 days prior to your experience * Must be made 2 full days prior to 12:00 AM local time the day your experience is scheduled. For example, if your experience is scheduled for May 21st at 6pm, cancel by May 19th 12:00 AM in the experience's timezone for a full refund. * If you cancel less than 2 days in advance, the experience is non-refundable. If you still need to cancel your booking, you can do so from your Dashboard. Go to Dashboard > Your Bookings to find all your upcoming experiences. Click through to the booking you want to cancel; at the bottom, you'll find a reminder of the experience's cancellation policy and a button to cancel your booking. The experience's cancellation policy will determine whether or not you receive a full refund. Please note that your experience is only officially cancelled when you receive an email from us confirming the cancellation and your refund status.