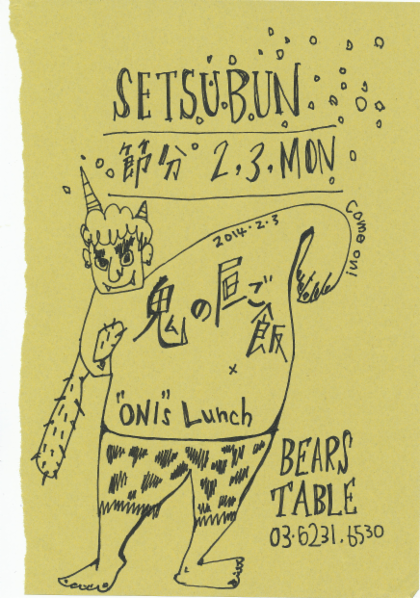 Have you heard about 'Setsubun'? Feb 3rd is called 'Setsubun' in Japan Setsubun literally means the division between two seasons-winter and spring. The Setsubun ceremony is held on February 3, where the Japanese celebrate with a bean throwing ceremony and eat Eho-maki (Fortune Sushi Roll). You can experience making and eating Eho-Maki at the cafe that are located very closed to Kaminari-mon which is the gate to Nakamise-street, a cafe in Asakusa near Kaminarimon. There are 3 traditional rules of eating Eho-maki: 1.You must face the lucky direction of the year. 2.You should eat the entire Sushi Roll at one go. 3.You should not speak until you have finished the sushi. People believe that they will receive good luck if they can eat a whole sushi roll without making any noise facing the south-southeast direction, which is believed to be the lucky direction for the year. You can make your own original Eho-maki and enjoy it with soup! If you are in Tokyo on 2nd or 3rd of February, you should celebrate 'Setsubun'! Please come and join us! ※This service is for reservation only. You will need to pay an additional 1500JPY for 'Setsubun' fortune sushi roll lunch.
No Cancellation
Show Printed Voucher
Operating Hours


* Description * * Cancellation Policy * Free Cancellation, up to 2 Days Prior Full refund 2 days prior to your experience * Must be made 2 full days prior to 12:00 AM local time the day your experience is scheduled. For example, if your experience is scheduled for May 21st at 6pm, cancel by May 19th 12:00 AM in the experience's timezone for a full refund. * If you cancel less than 2 days in advance, the experience is non-refundable. If you still need to cancel your booking, you can do so from your Dashboard. Go to Dashboard > Your Bookings to find all your upcoming experiences. Click through to the booking you want to cancel; at the bottom, you'll find a reminder of the experience's cancellation policy and a button to cancel your booking. The experience's cancellation policy will determine whether or not you receive a full refund. Please note that your experience is only officially cancelled when you receive an email from us confirming the cancellation and your refund status.